The

UW- River Falls Center for Economic Research (CER)

in partnership with St. Croix Economic Development Corporation (SCEDC) has released the April edition of the St. Croix Valley Economic Dashboard. The dashboard presents a snapshot of the economic condition of the labor, consumer and housing markets in the three county area. It presents the latest available data* in one convenient package and can be viewed on the CER's website at

www.uwrf.edu/cer.
January's labor market data was troubling because the labor force dropped 2.2% from the previous year. This is an issue because as the economy improves, we expect to see discouraged workers reentering the labor market. A declining labor force, on the other hand, is usually a sign of worsening labor market conditions. February's numbers give some hope, though. The unemployment rate edged up 0.65 percentage points in February (year over year) for the St. Croix Valley, but the unemployment rate is lower than one year ago. Moreover, the increase in the unemployment rate for February was driven by an increase in the labor force rather than job loss as total employment remained relatively unchanged.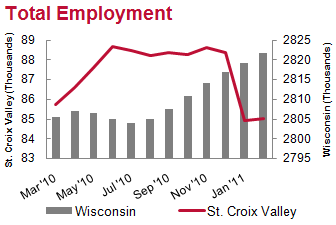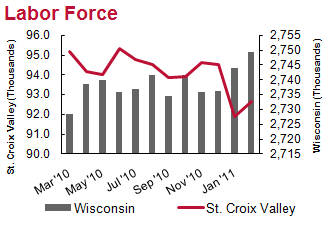 The housing market, however, is still grim. The median home price in the region fell vs. one year ago for the forth straight month, and the number of homes sold in March declined by 20.4% from one year previous. This is consistent with the national housing market, which continues to show signs of weakness.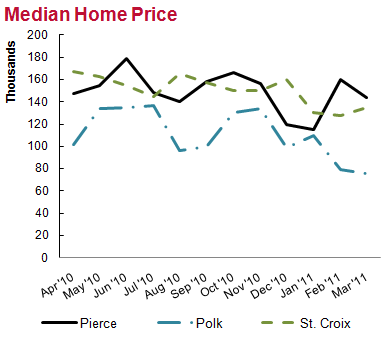 Wisconsin's St. Croix Valley is comprised of St. Croix, Polk, and Pierce counties. All three counties are located along the Wisconsin-Minnesota border. Two of the three counties, St. Croix and Pierce, are included in the Minneapolis-St. Paul-Bloomington MN-WI metropolitan area, a 13-county region with of population of 3.25 million residents. For additional information on the March edition of the St. Croix Valley Economic Dashboard, contact Dr. Logan Kelly at cer@uwrf.edu or (715) 425-4993 or William Rubin at bill@stcroixedc.com or (715) 381-4383.
*Please note that most regional data is available with between a one and two month delay, thus the current month's dashboard will have data from previous months.